Welcome to the 2015 Website of the IYC Cayuga Lake Cruising Fleet!
The Cruising Fleet is a group of people––most of them members of the Ithaca Yacht Club––who love to sail and who have been organizing sailboat racing events for a long time. We have races almost every Sunday from early May to the middle of October.
Whether you have a keelboat or not, we invite you to join us. If you have a keelboat, you may consider sailing in our events. If you don't have a boat, you may consider sailing as a guest or crew with one of our skippers. There are always some boats that are short-handed. All you have to do is to come to the South Pavilion of the Yacht Club around noon on a Sunday and ask one of the skippers to direct you to the Fleet Captain and he will find a boat for you to sail on as a guest or crew.
Our sailing events are of three kinds: around-the-buoys races, mid-distance races, and long distance races.
This year, we have a Spring and a Fall Series of 11 around-the-buoys races each. Those require a certain amount of experience and are open only to skippers who are registered with the Cruising Fleet and have paid their racing fees.
However, the mid-distance and long-distance races are "open" events, that is, they are open to anyone with a keelboat and there are no entry fees.
The main events in the summer are the eight Latitude Races of the Johnson Boatyard Cup Series. In those races boats don't race around buoys but sail to individual latitudes and back, the latitudes being determined by the race committee on the basis of each boat's PHRF rating. This makes handicapping unnecessary because faster boats sail longer distances than slower boats. These latitude races are ideal opportunities for anyone who hasn't competed before to get some no-pressure racing experience (See "Sailboat Racing for Cruising Sailors" on this website).
The four long distance races––also open events––are the 12.5 mile Sheldrake Race with a post-race party at Kidder's Landing; the 50 mile day race and the 50 mile night race to navigation Mark 51A (near Farley's Point); and the 28 mile day race to the Red Jacket Yacht Club for the annual Red Jacket dinner and party.
For additional information about the Cruising Fleet, check out the "Frequently Asked Questions" and the "Racing Calendar" on this website. If you are interested in joining us, please contact the Fleet Captain, Keith Rice, or just come to the Yacht Club's South Pavilion on any race Sunday.
Finally, here is a Colorful 2-Page Brochure prepared by Past Fleet Captain Susan Swensen Witherup that is suitable for framing or printing and distributing to new or potential CLCF members! Enjoy!
---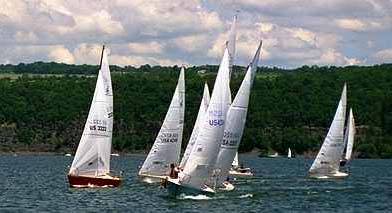 Check out the Ithaca Yacht Club's website at www.ithacayc.org.