Welcome to the 2013 Web Site of the Cayuga Lake Cruising Fleet!
We are a group of people who love to sail and who have been organizing cruising and racing events for a long time. We have some sailing event going on almost every Sunday from early May to the middle of October.
Whether you have a keelboat or not, we invite you to join us. If you have a keelboat, you may consider sailing in our events. If you don't have a keelboat, you may consider sailing as a guest or crew with one of our skippers: There are always a couple of boats that are short-handed. All you have to do is to come to the South Pavilion of the Ithaca Yacht Club on Sundays around noon. Ask one of the skippers to direct you to the Fleet Captain, and you will be sure to be cordially invited to join that day's sailing event.
Our sailing events are of three kinds: In the Spring and Fall there are two series of around the buoys races. Those are open only to skippers who are Cruising Fleet members.
However, all of our summer events are open to non-members. The main events in the summer are the six Latitude Races in which boats don't race around buoys but sail to individual latitudes and back, the latitudes being determined by the race committee on the basis of each boat's U.S. Sailing's performance handicap. This means that slower boats sail shorter distances and faster boats sail longer distances, so that everybody will finish at approximately the same time. These Latitude Races are ideal opportunities for cruising skippers to get some no-pressure racing experience.
The third kind of event––also open to non-members and free of charge––is a series of four long distance races. They are the one-way races to Sheldrake Point and to the Red Jacket Yacht Club and the Night 50 Mile Race and the Day 50 Mile Race to Union Springs and back.
For additional information about the Cruising Fleet, check out the "Frequently Asked Questions" and for the schedule of events check out the "Cruising Fleet Calendar" on this web site. If you are interested in joining us, please e-mail the Fleet Captain, Susan Swensen or just come to the Yacht Club for one of our Sunday events.
---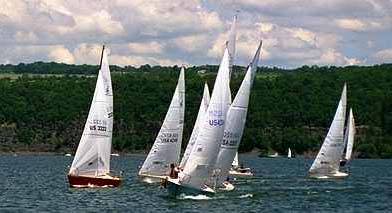 Check out Ithaca Yacht Club's web site at www.ithacayc.org.