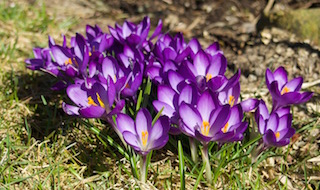 Spring, Afterall
April 30th, 2018
Although it didn't get here in time for the tune up race (see the pennant), spring has finally brought some beautiful weather. Get out your shorts and floral shirts for what is sure to be a beautiful sunny race day for the first races of the spring series next weekend!
End of Year Wrap-up
October 20th, 2017
Our 2017 season is all wrapped up - all that remains is to put away our toys, clean up the playground and hand out the prizes.
The annual awards banquet will be Sunday, October 29th at the IYC clubhouse.
2017 Awards Schedule
5:30 - Cash Bar
6:00 - North Sails Presentation
6:30 - Buffet
7:30 - CLCF Awards Ceremony
Please register with IYC to help ensure the appropriate amount of food is prepared!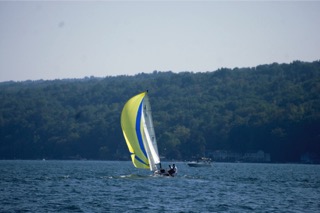 White Sail Regatta & BBQ
October 10th, 2017
This Sunday, October 15th will be our last event of the season &em-dash; the Frostbite Regatta!
None of us know exactly what our fleet captain has planned except that we will meet at 12:30PM and race, and afterwards we will enjoy a BBQ and dish to pass in the company of our good friends and competitors! Will we sail another word like "dog"? Will it be a more esoteric word? Perhaps one with unusual diacritical marks? Perhaps something entirely different? Come enjoy a fun (and unseasonably warm, if the forecast is to be believed) day on the water to close out the sailing season!
Sailing instructions are in the documents section as usual.
Annual Red Jacket Regatta
July 22nd, 2017
Saturday, August 5th
Dinner at the Red Jacket Yacht Club
The Red Jacket Yacht Club once again hosts festivities and dinner overlooking Cayuga lake, followed by the awards ceremony, lawn games and casino night. Dinner reservations should be made with Red Jacket's Trevor Erb:
terb@stny.rr.com
607-725-3072
Please make reservations by July 26th.
Race up the Lake
The race will be a pursuit start with the first boat starting at 8:00AM. All sailboats are invited to join. There will be a skipper's meeting at 7:30AM at the IYC south pavilion.
Sailing Instructions

Contact CLCF Fleet Captain Charles Witherup at CayugaLakeCruisingFleet@gmail.com to register for the race or for any additional information.
The weather for this years night demanded plenty of attention. We probably changed sails about every two hours and would tack from reach to reach as the wind shifted abruptly through the night. However the night air was quite warm and the moon quite bright until it was masked by clouds in the early morning. Three boats competed, with the best corrected time going to the last boat to finish - a good night for the tortoise. Congratulations to Penny Rover and crew for a long race well sailed!
From on board Trevelyan: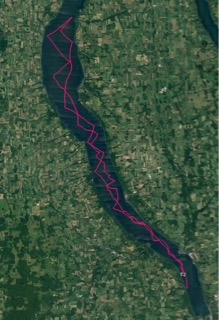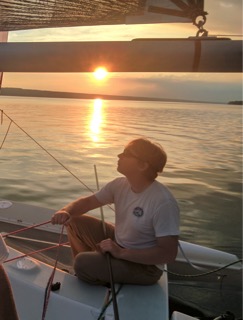 18:00 - Started under screecher; wind light and variable
19:26 - A spinnaker reach in three knots from the west
22:00 - Switch back to screecher after reaching down the East shore. Wind on the water from the East, steam from Milliken betrays wind up high from the West.
00:00 - A south breeze has come up - boat speed up to 5 knots, a beautiful moon illuminates the sails and boat. Lightning visible to the North - the weather radar suggests a storm is over Rochester.
02:15 - Moving well under spinnaker - 1 mile from the turning mark. Radar says rain coming soon.
02:23 - Rounded the mark - upwind under jib and main in a nice South breeze. Boat speed 6-7 knots.
03:10 - Put a double reef in the main in anticipation of approaching thunder storms
03:15 - Rain starts
03:24 - Wind shifts to the West. Dropped the jib, now under double reefed main only. Lightning show keeps us entertained, but no strong winds materialize.
04:00 - Storm threat passed - back to full main and jib. Passed Quetzal heading North near Long Point.
04:45 - Wind lighter, back to screecher. Time for a nap.
08:00 - Almost to Taughannock - had switched from screecher back to jib earlier to try and get better tacking angles in the shifting breeze even though the wind strength is borderline. Wind now shifts from South to Southwest and frees us enough to use the screecher again effectively.
08:45 - Spinnaker back up, held until Crowbar point at which point the wind becomes very gusty and shifting through about 40 degrees. Boat charges from 4 knots to 10 knots in each gust. Grinding full time to keep the screecher trimmed in the shifts and gusts.
09:51 - Finished!
03:40 - Weta sailing in a beautiful 15-20 knot Northerly! Where was this breeze hiding for the previous 24 hours?
The spring season finished as it began with a beautiful day and a strong south breeze. Snitch and Trevelyan went into the last day of racing tied for points - see the results for the outcome! After the racing we had the usual BBQ in the sun by the south pavilion.
Sheldrake Cup
Next weekend (25th) is the Sheldrake Cup and the Sailstice Regatta. We will do a new format this year - a rally to Sheldrake followed by a raft-up and picnic lunch off of the Sheldrake Winery docks.
The rules are simple:
Start any time between 8:00 and 11:00 AM
Finish before 1:00 PM
Record your start and finish time
Bring a picnic lunch